Insightful dashboards for Heavy Equipment Managers
Chances are you're the type of asset management leader who needs quick and accurate reporting to effectively control and improve your processes. Unfortunately, your team is likely spending hours extracting and manipulating data in Excel to get you the information you require.

That's where we come in. At AIM, we build automated dashboards that get you all the data you need to make rapid and fact-based decisions at the click of a button!
Get Started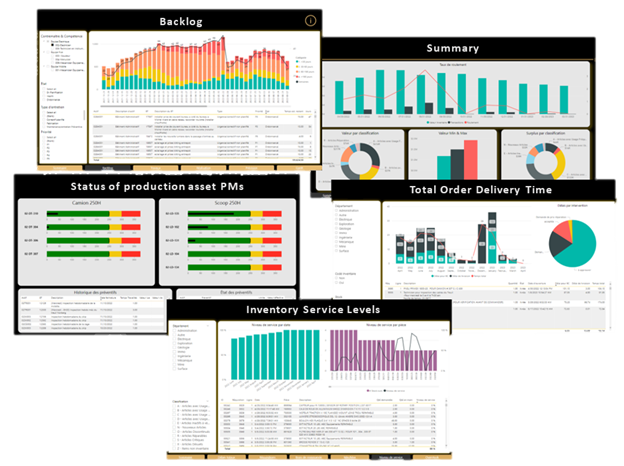 our simple 3 step process
Get your first dashboards within a few weeks!!
Step 1
We get connected to your asset management software, such as Cogep Guide TI, Maximo, SAP and IFS.
Step 2
We work with you to transition any legacy reports, and then develop new dashboards customized to the needs of your operation.
Step 3
We grant access to your teams and give them all the personalized training and coaching they need to deliver a world-class reporting solution.
Our areas of expertise
We specialize in heavy equipment asset management
Maintenance Management
Capturing maintenance management performance measures is essential in understanding the state of your department, and to ultimately work towards improving your processes. Unfortunately, most CMMS lack the ability to measure performance efficiently, and if you're like many others Excel is your tool of choice for establishing maintenance KPIs. AIM can help you automate your reporting, and let you focus on value added tasks. Amongst others, here are some well known KPIs we recommend:
Work Order Backlog

Planned Work Percentage

Schedule Compliance

Preventive Maintenance Compliance

Planning Accuracy

Cost Tracking
Procurement & Inventory
We've heard of too many organizations spending thousands of dollars, year over year, for software or external reviews to optimize inventory levels. With Power BI and AIM at your side, this is no longer required.

With your CMMS data and your own expertise, you have all that's required to establish continuous and automated inventory reviews. AIM can help you build reports identifying any Inventory and Procurement KPIs such as the ones listed below.
Turnover Ratio

Overstock

Service Levels

Min/Max level optimization

Lead Times

Inventory Count Tracking
Asset Reliability
As asset managers, we need to ensure high reliability of our equipment by continuously working to improve it. CMMS software typically holds all the required information to perform many types of analyses to improve reliability. However, extracting and "cleansing" this data can be very time consuming. At AIM, we help your reliability team automate this process which will allow them to focus on improvement projects rather than data mining. Below are some well-known reliability measures that we've successfully implemented.
Availability

Overall Asset Health

Mean Time Between Failure (MTBF)

Mean Time to Repair (MTTR)

Overall Equipment Effectiveness (OEE)

Pareto Analyses
The AIM Difference!
Why choose us?
When you sign up with AIM, we make sure you get the most value from our products right from the start and continue to support you throughout your continuous improvement journey.
Industry Knowledge
Unlike other IT firms, we have industry knowledge. With nearly 10 years experience in the world of heavy equipment management, we know your pain points.
Rapid Results
In a matter of weeks, or even days, you'll have automated reports that allow you to make data-driven business decisions. Other solutions can take months.
Customization
Unlike third party software or built-in reporting within your CMMS/ERP system, AIM products are fully customizable to ensure they fit YOUR needs.
Ongoing Support & Consulting
We'll make sure you get continued value from the software and offer a wide range of consulting services to help improve your asset availability & reliability.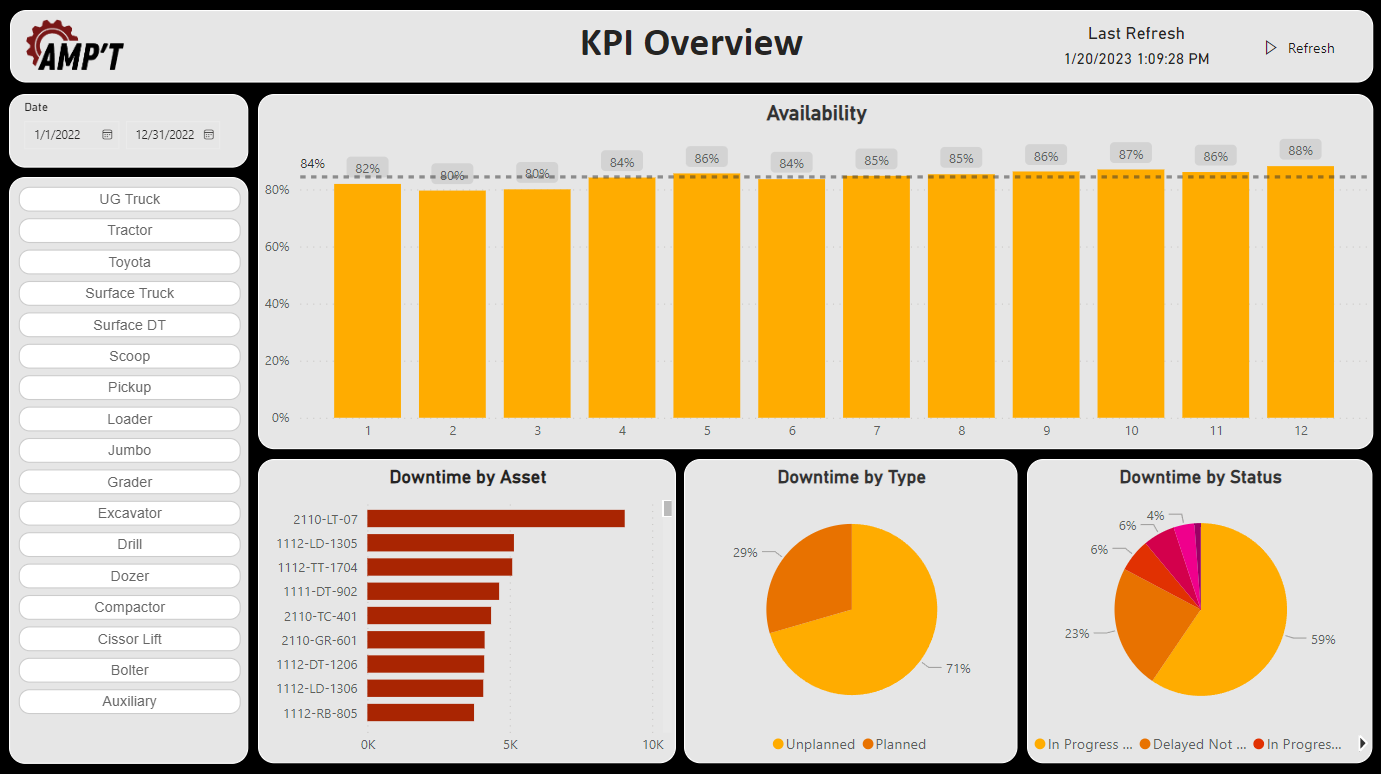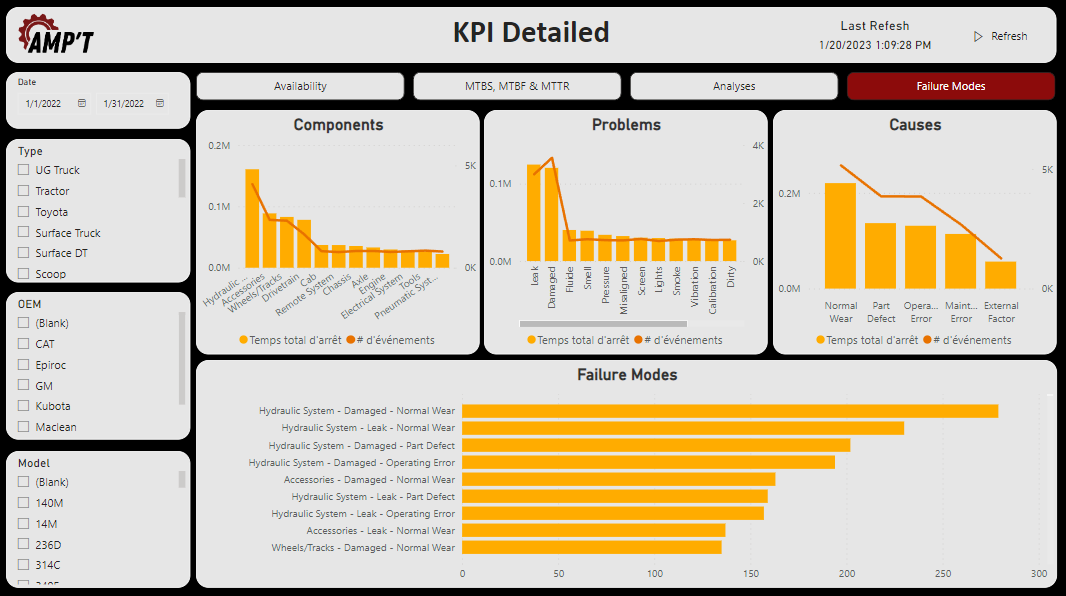 Get in touch!
Assess your KPIs, reduce data manipulation, and increase performance!
Stop spending hours fixing and manipulating Excel spreadsheets! Start getting quick and reliable data that will assist you in improving your asset availability and reliability today!