Customized data solutions for Heavy Equipment Managers
Improve operational efficiencies and reduce costs!

At AIM, we get you the data you need to make rapid fact-based decisions. We offer a downtime tracking tool purposely designed for heavy mobile equipment, and develop custom data analytics dashboards with direct link to asset management software using Microsoft Power BI.

We're here to help you escape Excel-Hell !
Get Started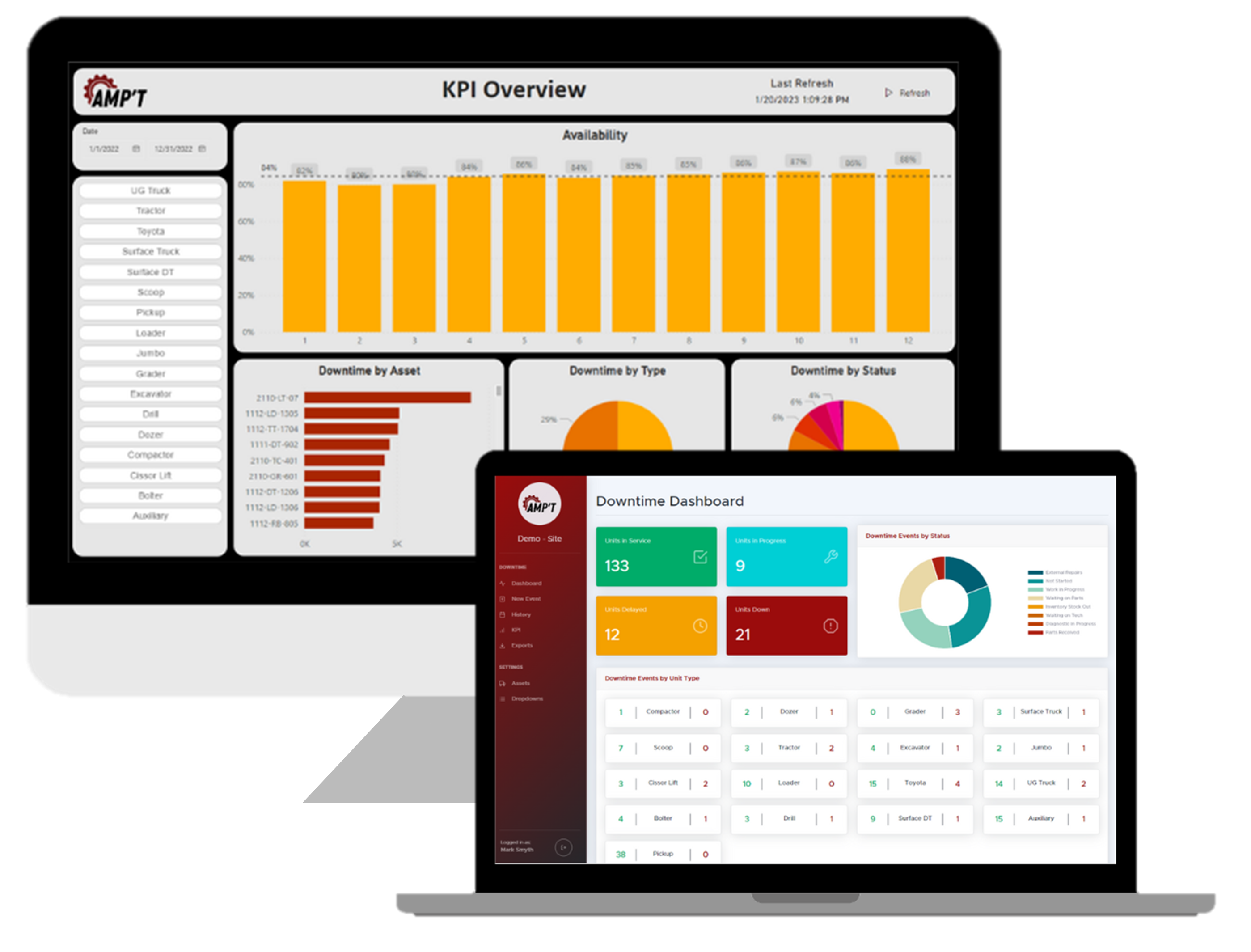 Vision
Our vision is to have all asset management professionals possess the necessary tools to facilitate quick and informed business decisions within their organization.
Mission
Our mission is to assist organizations in the implementation of insightful, user-friendly and automated data management and visualization tools to simplify their daily activities.
Promise
Our promise is to deliver high quality customized products that meet your business needs and allow you to Assess, Improve and Master (AIM) your processes.
The AIM Difference!
Why choose us?
When you sign up with AIM, we make sure you get the most value from our products right from the start and continue to support you throughout your continuous improvement journey.
Industry Knowledge
Unlike other IT firms, we have industry knowledge. With nearly 10 years experience in the world of heavy equipment management, we know your pain points.
Rapid Results
In a matter of weeks, or even days, you'll have automated reports that allow you to make data-driven business decisions. Other solutions can take months.
Customization
Unlike third party software or built-in reporting within your CMMS/ERP system, AIM products are fully customizable to ensure they fit YOUR needs.
Ongoing Support & Consulting
We'll make sure you get continued value from the software and offer a wide range of consulting services to help improve your asset availability & reliability.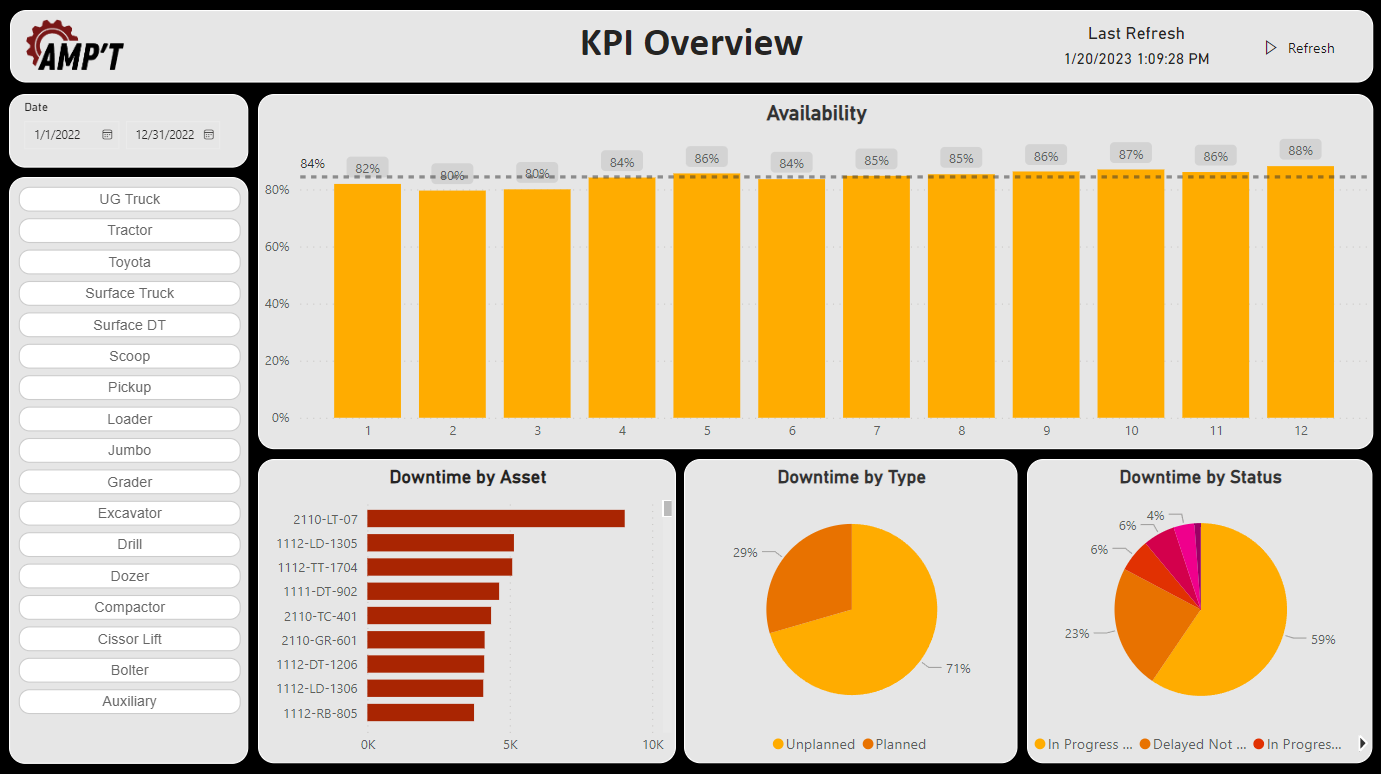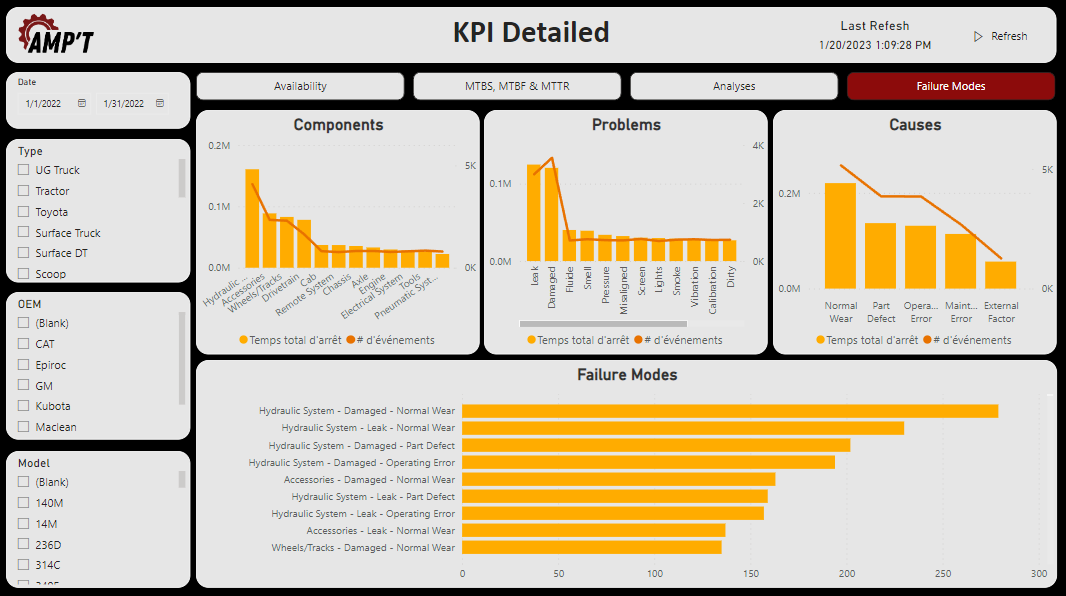 Testimonials from industry professionals
Trust us, and your peers! See what they have to say...
"I used to wait days or even weeks to get my fleet performance KPIs, and they were lacking details. With AIM, I literally get them at the click of a button and the interactivity gives me all the information I need to make solid fact-based decisions."
- Carl Théberge, Maintenance Director
"When I made a career change to a new mine, I simply could not live without AIM's tools. Getting Downtime Tracker installed was one of the first moves I made. It's a simple tool that provides an invaluable source of information for the maintenance & reliability team."
- Marc Noel, Maintenance Superintendent
"Prior to working with AIM, we used Excel spreadsheets to document downtime. It was a pain in the butt. Someone always messed up the template and all the formulas and dropdowns were out of wack. Downtime Tracker is a dream to use - straight forward and very user-friendly."
- Patrick Tremblay, Maintenance Supervisor
"I used to be tasked with preparing weekly and monthly fleet performance KPIs which took me 3-4 hours per week to complete. AIM has completely eliminated this task, which allows me to focus on planning. I now also benefit from a near-live interactive fleet status dashboard."
- Pierre Soucy, Maintenance Planner
Get in touch!
Assess your KPIs, reduce data manipulation, and increase performance!
Stop spending hours fixing and manipulating Excel spreadsheets! Start getting quick and reliable data that will assist you in improving your asset availability and reliability today!